Interviews
Interviews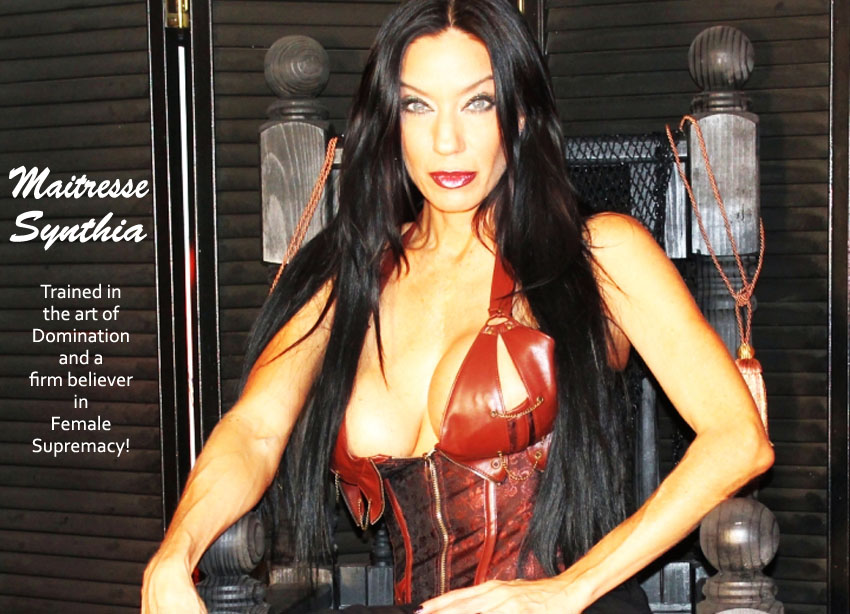 dv: It's a pleasure to talk to you. To start things off, tell us where you're currently located.
MS: I work out of The Valley of the Sun, Phoenix Arizona.
dv: You're very lucky; Arizona is such a beautiful state. Did you start your career in Phoenix?
MS: Actually I've lived My whole life here; I'm a rare Arizona native.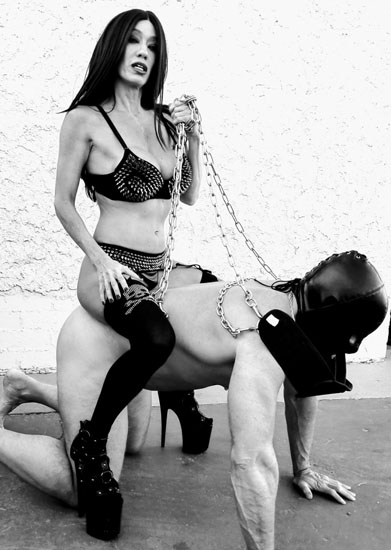 dv: Were you an aspiring Dominatrix in your childhood days or did that come about later? Would the 'schoolgirl you' be surprised to learn that this became your profession?
MS: I was sick and somewhat frail as a child, and because of that My mother sheltered Me quite a bit. I would say that I really didn't 'break out of My shell' and acquire My dominant nature until I discovered the power of My sexuality during the teen years. So, the 'schoolgirl me' would have been surprised, but definitely not the teenager!
dv: Interesting! What was your initial introduction to the scene and how did that evolve into your decision to make this a profession?
MS: Looking back on past relationships, I was always in the dominant role. What I found really interesting when I first started to learn about D/s relationships is that I had already displayed dominant characteristics for years, but I just didn't have a name for them.
dv: Sounds like you're a natural-born dominant.  Who would you consider your heroes in the business and who have been mentors?
MS: My heroes are Porsche Lynn and Princess Kali ? although there are many others in the industry I admire, like Mistress Darcy, Maitresse Renee, and Miss Penelope Dreadful.
dv: Those are some very well-known names indeed.  Tell us about some of the most memorable sessions you've had.
MS: One of My favorite sessions involved an extended role-play in which another Domme and I played escaped convicts who do a house invasion on a husband, wife, and daughter. To Our surprise and delight, the husband just so happens to be the judge who wrongfully had us put away. During the invasion, We learn that the judge and his family are not as squeaky clean as they would like people to think! We 'torture' them and 'force' them to play out all of their dirty little secrets ?and the scene kept its intensity during the entire 12 hours! Everything flowed perfectly! A lot of planning and preparation goes into that type of session and quite a bit can potentially go wrong. It actually exceeded My expectations and My sub and all the play partners said that it was by far their best/favorite session to date!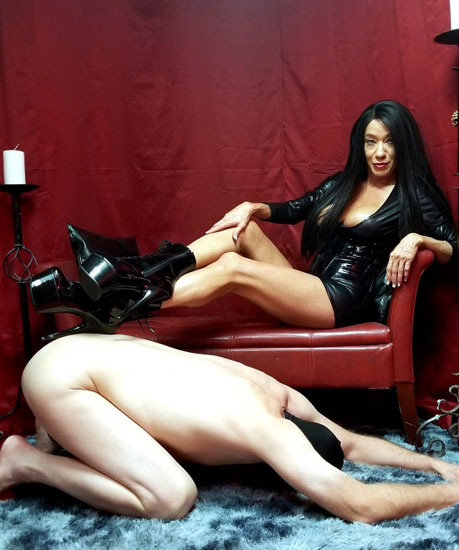 Another very memorable session involves an anal play/fisting session where I, as Dr. Synthia Strong, deliver My sissy's twin babies. Those are just two off the top of My head, but seriously, I could go on and on! I'm very grateful to have had so many memorable sessions and I look forward to making lots more in the future. ?
dv: What creative ideas! What do your favorite types of scenes involve?
MS: I enjoy a wide variety of activities. Some of My favorites are strap-on, and.... actually, any type of anal play pleases Me ;p. I also love to dress My sissies up and turn them into sluts for Me. ? Roleplay is always wicked fun! I love the wild scenarios; the more taboo, the better. ?
dv: Cool! Tell us what sort of facility you have.
MS: I named My facility 'The Sanctuary' and the name suits it well. I'm constantly told how safe and comfortable My subs feel while they're here. The Sanctuary is located in a nondescript, free-standing building with an automatic gate that opens when you drive in and closes behind you, so the privacy begins before you even exit your vehicle. Once inside, the red concrete floors and constant candlelight transforms your reality from the ordinary into the extraordinary. This is My domain. There are 1,200 square feet of fully equipped play space to explore... I have several traditional spanking benches, many unique pieces of bondage furniture, a St. Andrews cross, a stockade, pillories, an assortment of metal, wood and plexiglass cages, a very special one of a kind 'Smith Machine', a vac bed, queening boxes, and so much more. On top of all that, I have a huge cross-dressing wardrobe, a full medical clinic, and the only 'Mind Meld Chamber' in existence!
Everyone who visits immediately feels at ease here and I take great pride in that. All kinks are welcome;I love them all! My only requirement is that once you enter My domain, you completely submit to Me.
dv: Wow, that sounds like a fantastic set-up.  What do you think people assume about Pro Dommes, or more specifically you, that is just not true?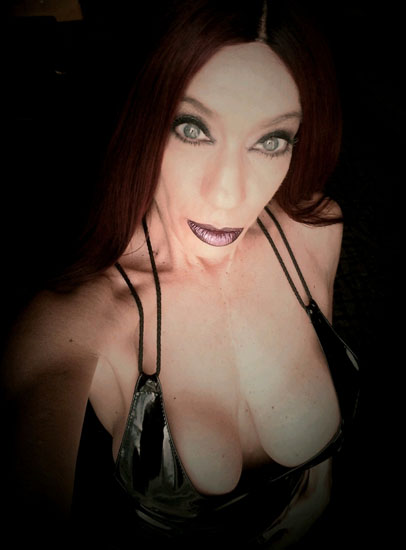 MS: That Dommes are 'man-haters'. I absolutely love men. Nothing is more of a turn-on than to see a strong man fully submit to My every desire, especially when they take a lot of pain for Me. The fact that I thoroughly enjoy seeing them at My feet and worshiping Me while in My presence comes from love, not hate... wouldn't you agree?
dv: Yes, we unequivocally agree with that sentiment. Tell us about your website. What services do you offer besides real-time sessions and where can people find you on social media?
MS: My site is very thorough; it covers quite a bit...from My background and the types of session play available to the equipment I have, and there are lots of pics. You should definitely check it out. Included on the site is My submission form, which needs to be filled out in order to book a real-time session.
In addition to hourly personalized sessions, I also offer extended sessions, key-holding (local or long-distance), phone sessions, and other unique experiences.
dv: You do indeed have a very thorough and well laid-out site and we encourage everyone to visit it! How do you balance everything and what do you like to do for fun? Do you have any hobbies?
MS: I spend most of My time working, though it usually doesn't feel like work because it's such a big part of Me and who I am, but there are some distractions I enjoy as well.  One of these is making jewelry and I love to go to the gem shows in Tucson every year. And when My schedule permits, I love to travel, whether it's for a week or just a day trip. I love to explore new places. DomCon LA every year is also a favorite trip of Mine.
dv: Good for you; everyone needs at least a few distractions in order to stay healthy. What are some of your future goals?
MS: I'm currently working towards becoming a licensed Hypnotherapist. I also plan to start offering 'slave weekends' which will be filled with teasing and torture. ? I'll have a few Dommes present, each with their own slave(s) and there will be various competitions and activities. Wicked fun!
dv: Wicked fun indeed!  Those are great goals and we have no doubt that you'll succeed. Thank you for taking the time to do this interview. All of us at dickie virgin wish you continued success!
December 18, 2019