Interviews
Interviews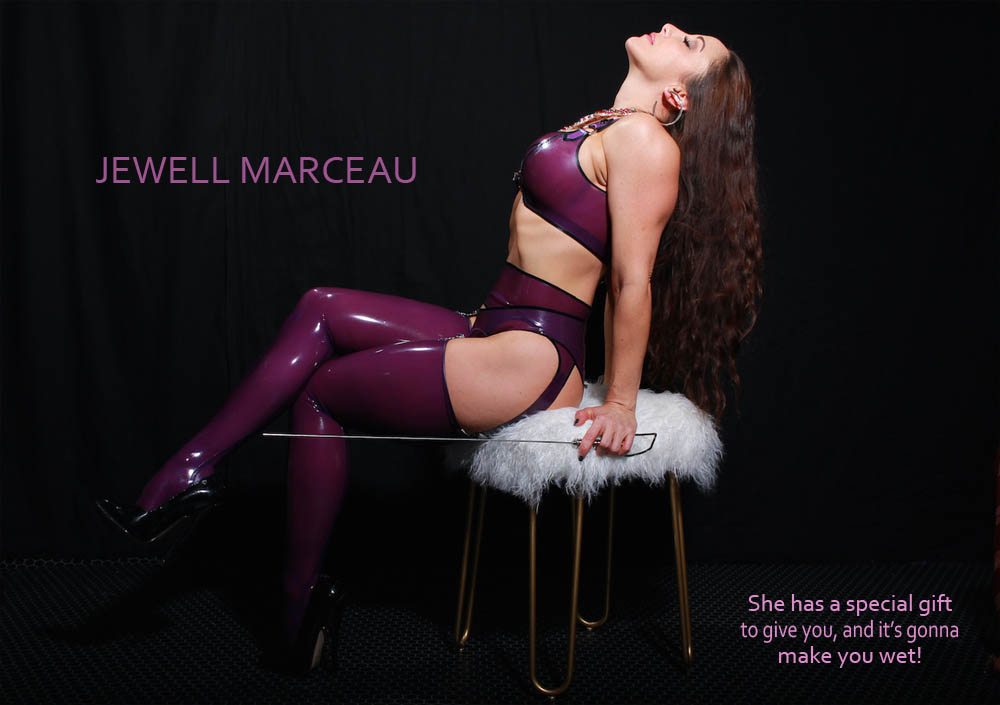 Jewell Marceau
dv: It's a pleasure talking to you; we've been big fans of yours for some time.  Tell people where you're currently located and whether you have any travel plans for the rest of 2019.
JM: I'm based in LA and have plans to travel to St. Petersburg, FL August 7–14.  I may also travel to Chicago in December and will be scheduling sessions in all three cities.
dv: Is Los Angeles where you started your career, and if not, what brought you to that part of the world?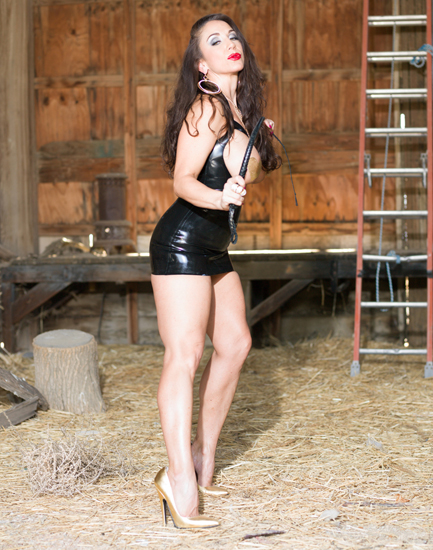 JM: No, it isn't. I started working in the adult industry on the East Coast in 1994. I wasn't happy living there and knew I wanted to move far away. I moved to Florida first, for about a year.  Then in February of 1996 I came to LA. I was only planning to stay for one month. I never left!
dv: Were you an aspiring Dominatrix in your childhood days or did that come about later?  Would the 'schoolgirl you' be surprised to learn that this became your profession?
JM: Yes, I was always fighting for control. Just before I reached adulthood, I began to assert my authority, but it was not well received. I wasn't surprised and made a firm decision to leave home the first chance I could. The 'school girl me' would say, "Told you so, Mom." At age seven, I knew I wanted to be in the adult industry, however, looking back now, I wish I'd had bigger goals for myself. The 'school girl me' would be shocked at my fitness achievements though!
dv: Yes, we've seen some of your amazing fitness competition photos! What was your initial introduction to the scene and how did that evolve into your decision to make this a profession? 
JM: My first introduction to the scene took place at Jim South's office of 'World Modeling' on Van Nuys Boulevard. I was brought there by my girlfriend, who was performing in mostly mainstream porn movies. I just wanted to know if I could still earn money without being required to have sex with multiple strange men and taking cum shots to the face. They told me 'yes' and gave me a list of fetish producers, including Harmony Concepts and Trample.com. I began my fetish career with these producers as well as a few others. I got very popular very fast and was double and triple booked every single week. After a few years of constant shooting, but still not knowing what I wanted to do with my life, I decided I either needed to retire from fetish modeling or commit to what I was doing to make it a business and a career.  Then in 2000, JewellMarceau.com was born!
dv: Great backstory. Who would you consider your heroes in the business and who have been mentors?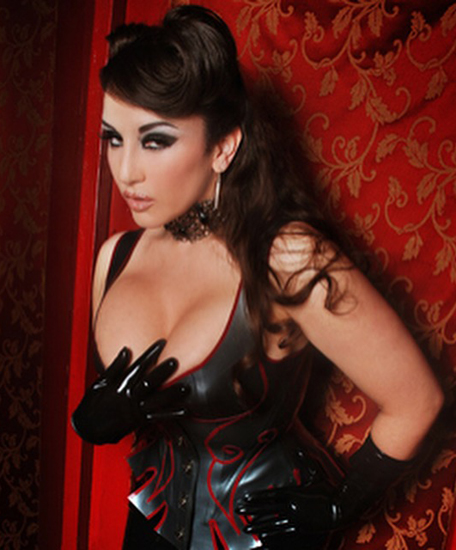 JM: I learned a lot from Mistress Isabella Sinclair and Nina Hartley was an inspiration as well. I love what Goddess Soma Snake Oil is doing right now for the homeless in LA, and Masuimi Max and Dita Von Teese are incredible creative inspirations both on stage and off. My European DVD distributor Bert Wibo of Massad Magazine was also a great mentor for me when I first started my production company. 
dv: Those are indeed some very well-known names in the industry.  Do you recall your very first session?  Tell us about some of the most memorable ones you've had. 
JM: Yes, it was a bondage tickle double session with Mistress Isabella Sinclair. The most memorable sessions have usually been outdoor ones or sessions that involve multi-locations. Mistress Absolute and I once instigated a very long, full-day session which required the client to follow directions (ha, that's already asking too much!) and find clues at various locations until he arrived at the final destination: our dungeon in London! I've packed special clients into tight boxes and rolled them into outdoor environments with no chance of escape. I like it when a client can helplessly feel movement and hear but has no idea what's happening or where they're going. I also have some other favorite sessions, but I can't speak publicly about them! 
dv: What great session memories! What do your favorite scenes involve? 
JM: Bondage, sensory deprivation, heavy rubber, mummification, orgasm control, breath play, caning, or a really good foot massage, delicious food, and a lovely bottle of Sauvignon Blanc.
dv: The last one in particular sounds heavenly. What sort of facility do you have? 
JM: I have access to multiple beautiful dungeons in LA such as Ivy Manor, Dungeon East, Dungeon West, Sanctuary Studios, and other more private locations.
dv: What do you think people assume about Pro Dommes, or more specifically you, that is just not true?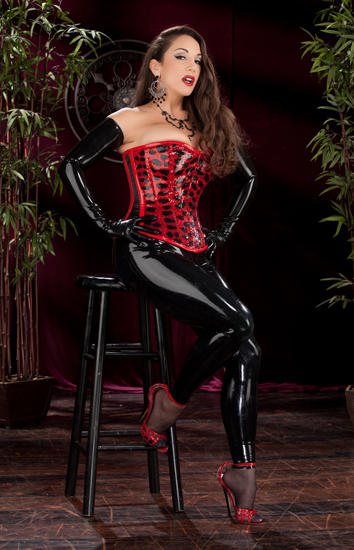 JM: That we are also full-service escorts. This is a very difficult struggle for all of us Dominas who are not escorts and who have never offered full-service sex acts to clients. I don't think there's anything wrong with prostitution and I do believe it should be legalized, however, it isn't the correct job description for me. I am aware that there's a crossover and it's unfortunate. It makes conducting business safely and legally far more stressful and challenging for those of us who only offer domination services as opposed to full-service sex. I would prefer there be a way to separate the two. For us, the Dominas, and for the sake of the clients trying to get their needs met in the correct place.
Something people assume specifically about me that just isn't true is that a woman who has performed as a bottom, cannot execute a dominant personality as well. That is just simply insane thinking.
dv: Great answer. Now, tell us about your site.  What services do you offer besides real time sessions? 
JM: My website JewellMarceau.com is newly revamped and offers new, never seen before photo and video content as well as archived historical content from my long history of shooting films and clips. I also offer webcam, phone domination sessions, custom video orders, custom photo orders, newsletters, a calendar of my upcoming events, a store which offers used clothing items from films, toys used in films, worn shoes and heels, store case DVDs, and 8X10 autographs.
dv: Sounds like you have a lot to choose from. Where can people find you on social media?
JM: You can find me on:
Twitter.com @msjewellmarceau
Facebook.com Jewell Marceau
Fetlife.com Jewell Marceau
OnlyFans.com @msjewellmarceau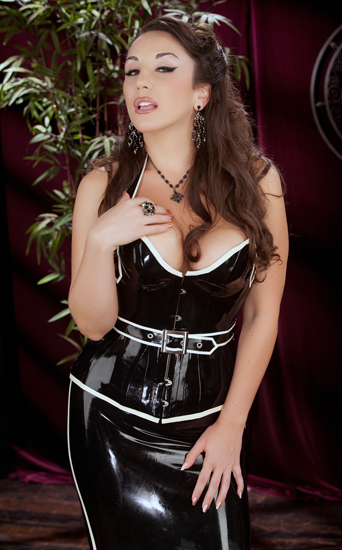 NiteFlirt.com Mistress Jewell Marceau
dv: We know you have an extraordinarily busy life. How do you balance everything and what do you like to do for fun?  Do you have any hobbies?
JM: It's very hard to balance everything. I keep my calendar full of commitments, so I always have my balls rolling! I make multiple lists and I set specific goals with deadlines and try my best to reach them. My current hobbies are fitness and my new cat!
dv: That's a lot indeed. What are some of your future goals?
JM: Short term goal: I'm competing on Labor Day, September 2, 2019 at The Muscle Beach International Classic body building contest in Venice. I'm going for the win (again)! 
Long term goal: To keep reinventing JewellMarceau.com in order to keep it fresh, modern, and user friendly for new and frequent users.
dv: Wow, both goals sound very exciting. Do you have anything else going on that you'd like to mention?
JM: I'm performing live on stage, teaching a workshop, scheduling Pro Domination sessions with fans, and hosting the awards show at FetishCon 2019 in St. Petersburg, FL August 8–12. Please come to this very special event! I love to meet my fans and clients in person! It's the most fun BDSM event I participate in all year and many other very special personalities will be there to meet as well. I highly encourage and request your attendance!
dv: You have an awful lot of stuff on the go but we have no doubt many of your fans will turn out just to see you. Thank you so much for taking the time out of your very busy life to do this interview.  All of us at dickie virgin wish you continued success with your endeavors!
JM: Thank you!
July 22, 2019