Interviews
Interviews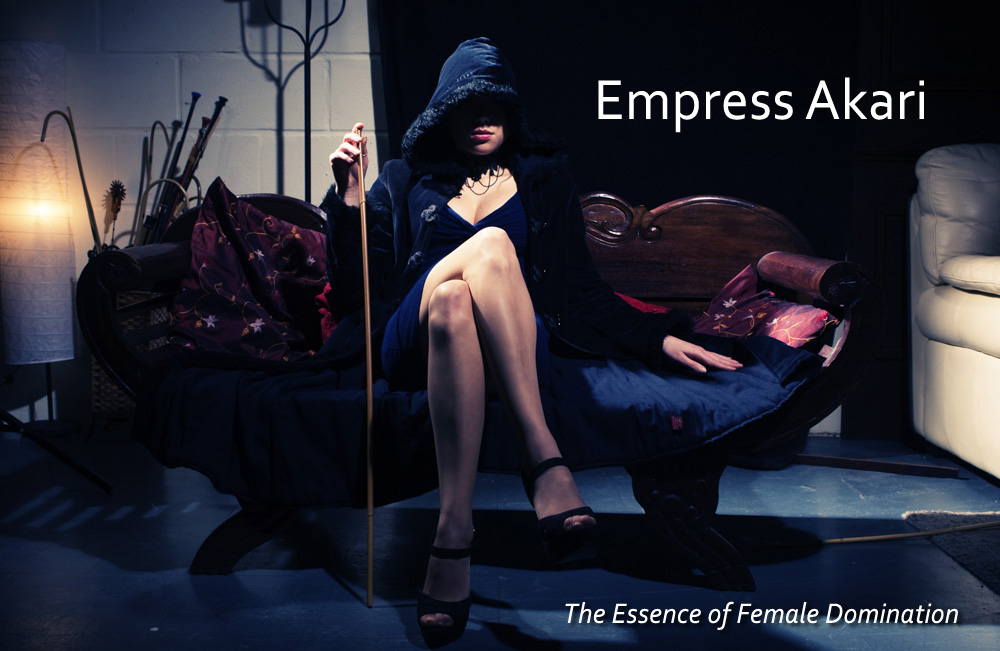 Interview – Empress Akari
dv: It's a pleasure talking to you; we're big fans of yours. Tell people where you're currently located and whether you have any travel plans for 2019.
​EA: Thanks, it's a pleasure speaking with you as well. I'm sure this interview will be a delight. 
I'm currently based in Bristol in the UK and I have several dungeons available to me in the area. Although Bristol is my base, I'm branching out into London, and I try to make a stop there at least once a month. I also travel quite regularly to Paris.  Meeting new subs there is always fun and exciting.
dv: Diversity is always good! Did you start your career in Bristol?
​EA: Yes, I did indeed start in Bristol. I moved away for a couple of years, however, and was fortunate enough to be able to Domme whilst travelling. I came back almost two years ago now and have since re-established myself here. Bristol is such a wonderful city to live in.
dv: It sounds like a great place. Were you an aspiring Dominatrix in your childhood days or did that come about later?  Would the 'schoolgirl you' be surprised to learn this became your profession?
​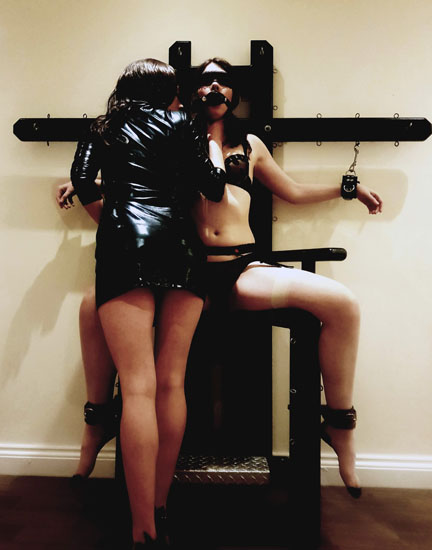 EA: Haha, an interesting question. I didn't even know what a 'Dominatrix' was until I was in my mid- teens, though the concept was most certainly there, even though the word for it was not. Looking back, I don't think I would be surprised at all, not in any way, shape, form, or fashion! 
dv: What was your initial introduction to the scene and how did that evolve into your decision to make this a profession? 
​EA: Some time ago now, I sat with a friend to watch documentaries of various sorts, and we came across the 'Fetishes' documentary. As we sat, I watched with awe. The fact that one could do this for a job just blew my mind. I was completely drawn into it right from the start. I knew, as I told my friend, that if I could find my way into the scene and do it as a lifestyle as well as professionally, I would do it. 
After scouring the internet, I eventually came across an ad looking for Dominatrices to join a dungeon. I applied and went for an interview which consisted of a chat and was able to watch in on a few sessions. I remember leaving the dungeon ecstatic. I had never seen anything quite like it and though I had played in my personal life, it was not to this level. I knew straight away that this was my calling.
dv: Sounds like the perfect fit for you! Who would you consider your heroes in the business and who have been mentors?
​EA: I would certainly say that Mistress Darcy was a role model of sorts. I initially stumbled across her having watched a 'vice' documentary. She really seems like a lady who knows what she's doing, knows what she wants, and how to get it. Very professional, and you could tell it was a true passion (though I believe she has now retired). Though I never knew her personally, I could see from the various blogs she posted that she was well informed and took her sessions very seriously, all of which I consider qualities to admire. 
Though I never had a mentor as such, I learnt a lot through videos, various written pieces, as well as medical passages, which coupled with my background, topped up the knowledge I needed in order to play safely. I've also met a lot of lovely Dommes along the way who have taught me bits and pieces of their craft. So, here's a big shout out to all the Dommes I've met along my journey! 
dv: Do you recall your very first session? 
​EA: I don't remember my first session per se, more the feeling. I remember feelings of anticipation and I couldn't wait to get started.  At first, I felt a little trepidation, but it was the good kind; the kind that gets you riled up and wanting more. The more we went through the session, the more creative I became, and it honestly made me feel so alive. Even to this day, that's how a good session makes me feel – alive.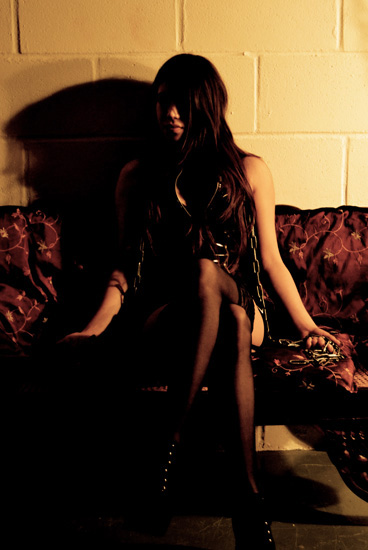 dv: That's so awesome! Tell us about some of the most memorable sessions you've had.
​EA: Hmm, that's a tough one. I've had so many wonderful experiences with many of my subs.  It's a tough one to pick but here are just a few!
I remember the first session with a sub who is now my Butler. We met a while back and he came to me without ever having seen a Dominatrix.  Suffice it to say, he didn't know whether being dominated would be for him or not, but he wanted to give it a go… and kudos to those of you out there who do! It takes guts to take that first step. Because he didn't know what his likes/dislikes etc. were, we had a blank slate to start from. We explored so many avenues, from sissification to CBT, and the doors were completely open in that sense. I remember we laughed so much and eventually the playtime we had inside of session was no longer limited and he gradually became my lifestyle slave. 
I love pretty brutal sessions. That can mean anything from a mean caning or drawing blood, to pure interrogation: hanging the slave up by their hands and pulling my most wicked tricks on them. Whether this takes place by instilling absolute fear into every fibre of their being, or slowly drawing out a torture, I absolutely love it and I'm damn good at it. 
Suffice to say, beating and torture are not always the necessary course of action. I've enjoyed many-a-session training slaves, both indoors and out. Slaves are always in need of being trained further, and I love to push and mould them into the kind of slave that both they and I want. 
I'll let you guys in on a pretty funny story. I know a lot of subs have the fear of meeting someone they know. Well, that certainly happened to one of my subs! As I opened my dungeon gate, standing there before me was my old math teacher! He didn't recognise me at first, so he stepped in and we went to the reception area to chat. As we sat and spoke, it dawned on him and I saw a look of recognition slowly cross his face. He choked a sentence out and I said, 'do you recognise me now, Mr. X?' He was pretty embarrassed at first, but we laughed about it and had a great session. In fact, he's still one of my regulars to this day!
dv: Those are great stories, especially the one about your math teacher. Lol! What motivates you during a session?
​EA: A big part of sessions for me are not just the activities themselves, but also the person in front of me. What kind of a person are they? Are they willing to explore and to show themselves naked in front of me, physically as well as metaphorically? I believe that the makeup of a good session starts with trust and rapport; that, to me, is the basis for a fantastic session. You get those moments when you're both on the same wavelength, smiling and laughing, or when I strike fear and anticipation into the core of their being. It's electrifying. I guess that's why I do it after all!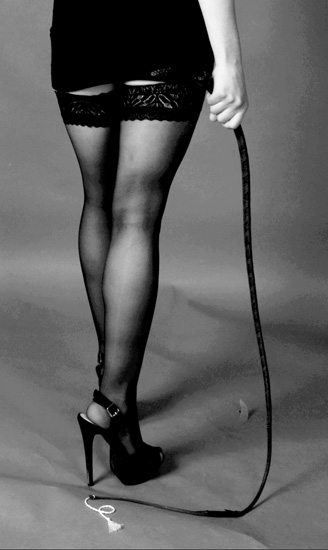 dv: What do your favorite scenes involve? 
​EA: A lot of it depends upon my mood and the person in front of me, but suffice to say, there are scenes that I will come back to time and time again. I love pretty much any type of role play. Something that challenges me, but especially when it involves some form of torture! Whether that's tickle torture or interrogation, I absolutely love those scenes. 
I'm very partial to scenes that involve something real; something that's both very real for me and for the party involved. By this, I mean something that we both take very seriously, whether that's a part of their training or anything they like, it makes it that much more exhilarating when played out. 
dv: That makes sense; the more real it is, the more you both enjoy it. What sort of facility do you have?
​EA: I currently Domme from two main locations, though if I know the person well enough, I do cater for home visits and hotel suites. One location has a very well-equipped dungeon, with equipment which ranges from cages to leather bondage gear to medical paraphernalia. You name it, they pretty much have it.
The other location is a bit more domestic. Though it has BDSM gear in the dungeon, it's more of a relaxed domestic type of environment. This means that my subs can worship me as I sit comfortably on the sofa, or I can position them on the bed, arms spread out, whilst I give them a good spanking… which in my eyes is the best of both worlds!
dv: What do you think people assume about Pro Dommes, or more specifically you, that is just not true?
​EA: I find that people can sometimes assume – somewhat wrongly – that being a ProDomme automatically means you're an escort. Now I know there are Dommes out there who do this, and I believe everyone has the right to do what they want with their body and their time. However, to the unknowing vanilla folk out there, they tend not to know the intricacies of being a Domme, let alone the fact that we don't all do escorting. Therefore, I find it somewhat infuriating when people I have told still go straight ahead and make that assumption. That word really does make an ass-u-me.
Another real irk of mine is the supposition that we're all man hating, abuse condoning, beaters. This, of course, is not the case, at least for myself and I know for many other women out there. I do not hate men, I never have, and I never will.  I do not condone abuse and I certainly do not do things against the will of another. And last but not least, a Domme's sole profession is not just to beat someone to death! It is a profession which requires skill and it takes a lot to be a Domme. 
Being a Domme isn't all about being a tyrant, nor is it just about the money or the things you can get. I believe that to be a great Dominatrix, you need to have an instinct for it. The natural inclination to rule, command, and the ability to watch over the subjects you have at your feet.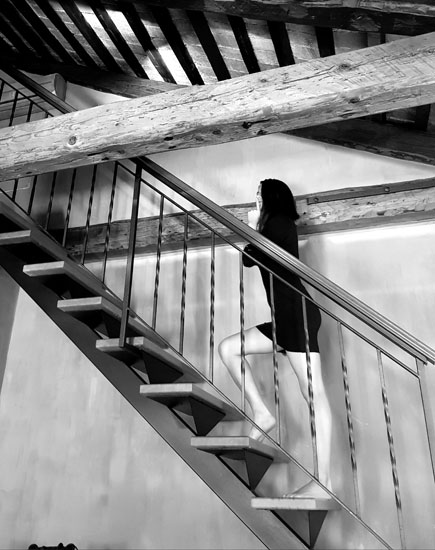 dv: That's very insightful. Tell us about your website.  What services do you offer besides real time sessions and where can people find you on social media? 
​EA: I've been building my website for just over a year now, with new and exciting bits posted regularly. I have a news section which allows subs to keep up to date with my whereabouts and availability, as well as the latest news. There's also a section for subs with my slave of the week, as well as 'Team Akari', which is a way for subs and slaves to serve me in various aspects of my life, from social media to errands. This, of course, is vetted and available by application only. I also have a Q&A section which gets updated regularly.  It allows all the subs out there to gain a little insight into the various corners of my mind!  After all, if you don't ask, how will you ever know?
Also available to me is my female submissive, Silvia, and my male submissive, kane, both of whom were rigorously trained by yours truly. They really are fine examples for submissives to follow!
In addition to my real time sessions, I offer email sessions, which are back and forth emails based upon the session scenario requested. I also do Skype and phone call sessions and all the information pertaining to this can be found on my website under the tribute tab.  Twitter and Instagram are the main social platforms I use and I'm quite visible on both.
dv: Great job! Your website is very professional and well laid-out.  How do you balance everything and what do you like to do for fun?  Do you have any hobbies?
​EA: Though a lot of people like regularity, I have built my life upon the lack thereof.  I enjoy the shift in my day to day and week to week lifestyle. This means I can include what I want, when I want.  In addition to being a Domme, which I love thoroughly, I'm also a bit of a nerd.  I have enough knowledge of both the brain and body, scientifically and psychologically, to sink a ship! Haha, which basically means I love to do research. Having graduated with a degree which requires these skills, it only made sense to keep going with it. The world is a big place, and with it, our knowledge is ever expanding.
Coming from two backgrounds, I'm very much stimulated by knowing both my Japanese and English cultures. As a result, I like to spend some of my time learning calligraphy, the art of tea ceremony, as well as kimono, etc. I'm a sucker for knowledge!
With all the self-tuition and whatnot, I do love a good drink and great conversation to go with it! To all the subs reading this, I'm partial to an Armañac. ?
dv: Wow, you've got a lot going on! What are some of your future goals? 
​EA: Being an Empress, I do aspire to expand my empire, whether that means sessioning in London, Paris, or elsewhere in the world. I plan to return to Japan again in a few years' time to flex my BDSM muscles there and tend to my skills, especially the art of Shibari. It makes absolute sense to go back to its roots, as well as my own. It will be very different compared to the experiences I've had in the UK and elsewhere, due to the cultural differences. However, I believe I will truly be able to flourish and enjoy myself there in ways I have not been able to, elsewhere in the world.
No matter what, I like to keep my horizons open to the various possibilities life throws at you. The world is your oyster, as they say.
dv: The world is indeed your oyster and we have no doubt you'll attain all your goals. Thank you so much for taking the time to do this interview. All of us here at dickie virgin wish you continued success!
​EA: Thanks a lot, it was good fun to explore this with you!
February 10, 2019