Interviews
Interviews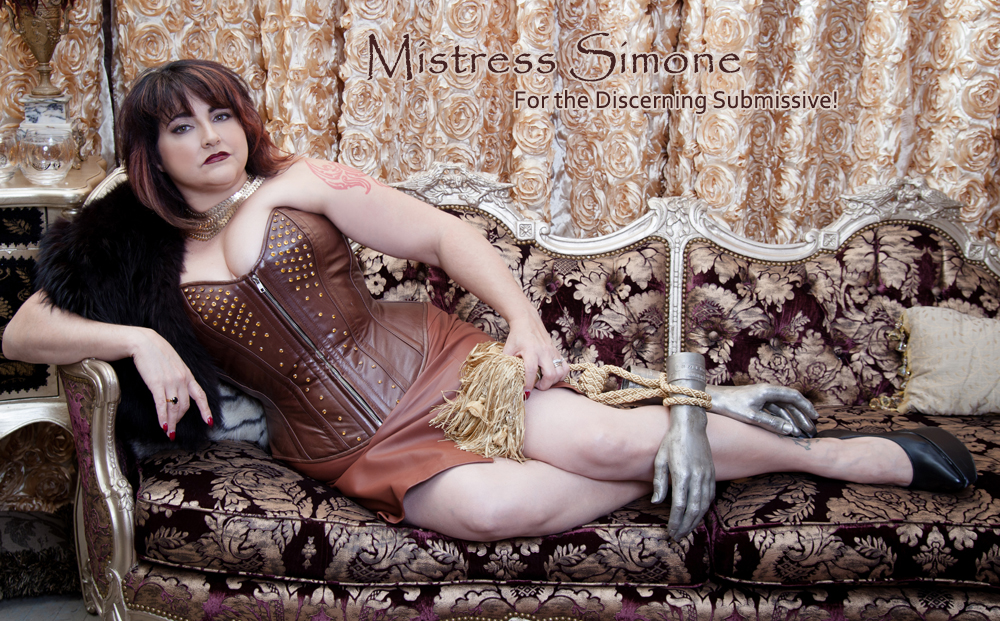 dv: It's a pleasure talking to you; we've been big fans of yours for some time.  Tell people where you're currently located and whether you have any travel plans for 2019.  We'd love to see you in Vancouver!
MS:  I'm honored to be interviewed here on dickie virgin, a great resource to our professional industry. I'm currently located in two cities: Chicago and St. Louis. 2019 will be a good tour year for me, with a European tour on the agenda plus NYC, Las Vegas, Kansas City, and maybe Washington, DC. I'm also considering Toronto and maybe I can add Vancouver.
dv: That would be great! Is Chicago where you started your career, and if not, what brought you to that part of the world?
MS:  Yes, I'm a native of Chicago and it's where I started my career. I added St. Louis as a secondary location approximately eleven years ago, so I now have two dungeon locations where I can cater to fetishists.
dv: Diversity, very nice! Were you an aspiring Dominatrix in your childhood days or did that come about later?  Would the 'schoolgirl you' be surprised to learn that this ultimately became your profession?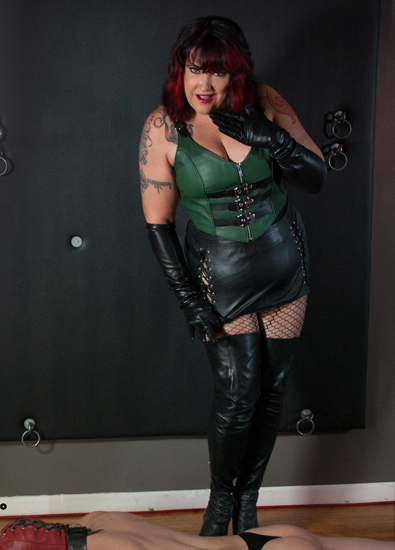 MS:  I basically started domination around age four, when I made the neighbor boy ride me around the yard on his tricycle. If you look at videos and pictures of me then, I was almost always in a power position with the male figures around me. Apparently, it came as no surprise to my high school mates that I chose Domination as a career. When I attended our high school reunion, they all either guessed it or said it made perfect sense. I officially dominated my first boy at age 15 by spanking him and tying him up.  After that it was the kinky life for me!
dv: Wow, you got quite an early start!  What was your initial introduction to the scene and how did that evolve into your decision to make this a profession?
MS:  We're blessed to have a long standing BDSM/leather community in Chicago that is welcoming to newbies. When I began, it was primarily based in the gay community, so that's where I got my start. As I matured, pansexual events and groups developed, and I joined them; I belonged to many Chicago leather and BDSM groups. My leather history is long and full, so I won't delve too much into all of it since we're focusing on ProDomination.
In 1992 I managed a local adult store called Taboo Tabou. Under my direction, it developed into the premier fetish store in the city and was the first to carry latex.  Many of my clients were local Dominatrices. We hosted educational nights, and that's where I met one of my first mentors, Suzanne D'Arcy, and we began teaching BDSM skill classes. The local professionals used to bring their clients into the store and I would assist them with their shopping, helping where needed, even to the extent of public humiliation within the store setting. One of the local ladies, Victoria, thought I was a natural and asked if I would like to become a Dominatrix. She ran a local house called The Pillory and I apprenticed with her there, along with her ladies. Within two years, I became skilled in all levels of the art of domination. After those two years, I decided to go independent in order to have more control over my image and career, and I haven't looked back since!
dv: Those are interesting roots indeed.  Who would you consider your heroes in the business and who have been mentors?
MS:  Heroes and mentors to me are two different things; they can be one and the same, but they don't necessarily have to be. My mentor was Suzanne D'Arcy. She was an escort who became a Dominatrix renowned for her caning and single tail skills, and she started me on the path to my love for both. I also learned CBT, needles, and other skills from her and she was very focused on safety and cleanliness.
Over time, she eventually became one of my heroes due to her longevity in the profession and her dedication to education and community, even when dealing with her own demons. She taught me that we're all human with our own inner demons to face, even when we assist others to face theirs. I learned a lot of life lessons as a result of having Suzanne in my life. The most important lesson I took away is that even as hard-ass Dommes, we still need people in our lives who love and care for us, with or without the domination.  As human to human.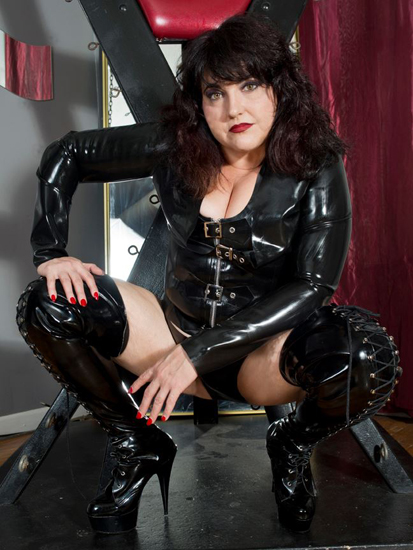 My original heroes are the Dominatrices I first encountered in the pulp papers and magazines of the 80s and 90s, and I eventually had the honor of meeting some of them. Mistress Mir is a fantastic woman, wholly confident in her dominance, and she lives it 24/7. Stephanie Locke is still one of my heroes; I love her honesty and intelligence. Cleo Dubois taught many of us to combine spiritualism and magic with our BDSM talent; she took Domination to a deeper intensity. Patricia Marsh is one lady I greatly admire but have not yet had the honor of meeting. What style!  Such a classic Dominatrix and her power is conveyed even through her images. There's no doubt in her visage that she's in charge and I aspire to reach her level. I admire Mistress Shane of NYC for her dedication to our craft.  She has a style after my own heart. Gloria Brame for her sense of humor and true love of sadism. Sabrina Belladonna, Amanda Wildefyre, Catherine Gross, Mistress Antoinette, and Domina Vesta for her pioneering business spirit.
The list goes on and I could name at least ten others. I'm a true believer in acknowledging the ladies who stand before and beside me as fellow Dominatrices. Most of us were originally part of the leather community because there was no such thing as the internet back then. It was a way for us to network, learn, teach, and meet potential slaves. Many of us were both lifestyle as well as professional Dominatrices.
All the women who trailblazed our industry have one thing in common: dominance was or is part of their spirit. They did not stop being sadists and Dominatrices as they matured. Neither clothing, age, or body shape defines a Mistress. What defines a Mistress is her love for our lifestyle, her unique spirit and open-handedness, her laughter when a scene goes exceptionally well, and her desire to take the control of another in a safe context.
My current heroes are those within our industry who put themselves forward in the face of a wrong, who present themselves with class and grace in an often 'trash' society, who show dedication and creativity to our profession, and those who aim to educate others about kink. Many of these women, I am proud to know: Irene Boss, Vinyl Queen, Ariana Chevalier, Isabella Sinclaire, Victoria Cane, Ava Marks, Alice in Bondageland, and the late Sadie Hawkins. Again, there are so many women to admire, who support each other and work hard in our industry.
dv: Those are certainly some well-respected names in the industry.  Do you recall your very first session?  Tell us about some of the most memorable ones you've had.
MS:  Lol, if I think hard, I can recall my first session. It was a corporal session, as many of us start with this skill. It was with an older gentleman who was a well-known Chicago painslut, and I had a great time whipping and beating him bloody.  One of the next early scenes I had was with a heavy cock and ball player, and that opened the door to my love of ball-kicking and punching. I did a few videos back then, before the internet and clipstores. Scenes that are memorable to me always include a connection to those with whom I engage and/or unusual scenarios. I love my unique style of bondage, so these spring to mind: making my slave into a champagne bucket; intense plaster casting combined with objectification as a trash can; ritualistic bloodletting with needles and scalpels; branding my slaves.
I also love working with couples. So many of these are memorable to me, for example, a current couple I see allows me to create unique couples bondage scenes with them. Traveling cross country with my slave bound in latex in the trunk, and later in the backseat. Trampling a heavy painslut with golf cleats… to name only a few!  Guess I should start writing these down, lol.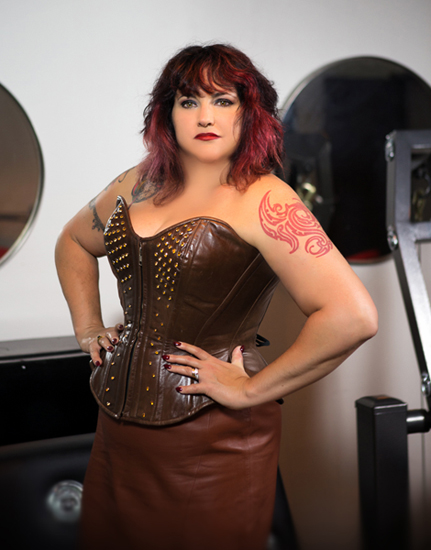 dv: Oh, those are great!  What do your favorite scenes involve? 
MS:  Connection, laughter, intensity, control, and creativity. I love to develop fresh takes on old activities like bondage and CBT. Using unusual elements in my bondage always get the juices flowing. I have an art background, so I like to think of my slaves as a canvas. I'm also a gear whore so trying new pieces and equipment is a big kick.
dv: What sort of facility do you have?
MS:  I have two well-equipped BDSM studios designed for all types of scenes. My Chicago space is 1,800 square feet with one large main room featuring multiple stations such as a St. Andrew's cross, bondage wall, bondage table, mummy-lacing table, CBT bench, spanking bench, and two cages. There's also a medical area, multiple encasement bags, and many, many toys. The front room features a bondage Murphy bed, suspension rack, CBT chair, bondage cross, and all sorts of gear with which to torment one. There are two toilet boxes and a complete setup for overnights.  My St. Louis studio is unique in that I created it to be a bit more intimate and warm. It features a uniquely crafted bondage table/cage combo piece.  There's a Sonny Black tie-down table, medical table, gurney, bondage corner, and sling.  Both studios feature a Venus 2000 and Erotek. The St. Louis studio has a Serious Kit Milker.  As a toy whore, I'm always acquiring new items so I can continue to torment slaves.
dv: Wow, talk about being well-equipped.  Sounds like you have everything!  What do you think people assume about Pro Dommes, or more specifically you, that is just not true?
MS:  I actually address this question in one of the writings on my site. The most common assumption I've heard made over the years is that we have sexual intercourse with our clients. While some do intermingle the worlds, most of us choose not to, especially if one has been working for several years. While what we do can be sexual in nature, there are many other reasons to engage in BDSM.  It can be therapeutic and comforting. Connection and power exchange are others and no one reason fits all scenarios or encounters.  Man-haters is another one I've heard often. I never understood this one.  Why would anyone choose to dedicate time and effort to engage in a career with people they hated? I happen to love men. I love engaging with and controlling them.
Or this one: "I am doing this to prove I am stronger than men." Hmm...nope. Who exactly do I need to prove this to? Strength is not based on gender. It's based on character and inner spirit. Abusive childhood and/or overbearing mother/weak father is another I've heard. Many of us, including me, come from a strong family foundation. My parents were wonderful! Both had strong personalities and shared equally in their marriage. I'm not sure about any assumptions that are specific to me, except one, which I've heard numerous times from clients. They were initially afraid to come see me because I was scary. Well I'll take that one! Lol, honestly, I enjoy playing at all different intensity levels and I don't need to stick 100 needles in your dick just because I like to.
dv: Well said.  Tell us about your site.  What services do you offer besides real time sessions and where can people find you on social media?
MS:  I'm not a very tech type of person, so my www.chicago-mistress website tends not to be very flashy, but is more information- based. The primary focus is to provide those seeking to serve me with the necessary information to do so. There's a session application to fill out prior to seeing me. My writings are there as well, which provide some knowledge about my style and views on BDSM. The galleries feature views of my two BDSM studios as well as the gear in each. Most of my career has been focused on real time sessions because that's my main preference. I enjoy the intensity of manipulating my slaves' reactions with my administrations. However, because this is a changing world, I've branched out into the cyber world, and I have a podcast called The Femme Domme Mystique, which is focused on female domination. It can be found on iTunes, Spotify, or wherever you get your podcasts! I interview some of the industry's best here. I've been doing Niteflirt since 1999 and can be found there for phone sessions, as well as to discuss our mutual interests prior to meeting. I do have a C4S store with clips I've engaged in with my Domme friends as well as some solo ones and I hope to add to it in 2019. You can find me on Sextpanther for those who enjoy text domination. My social media is very active, and you can find me on both Twitter and Instagram as chicagomistress. I'm also on Facebook, under Simone Worthington.
dv: How do you balance everything and what do you like to do for fun?  Do you have any hobbies?
MS:  I try to allow myself some time every day without any electronics or other humans around. I love hot yoga to release my tension and maintain balance. Weightlifting is another way I like to do this and I'm focusing on learning more about it.  Walking is also something I enjoy. For fun I love to try new restaurants and cuisines. Traveling is also a great passion. Cigars and whiskey are a love of mine, so I do indulge in them. Museums, historical sites, and history are hobbies I enjoy. I'm a well-known geek and some of the things I enjoy include comics, female super heroines, fantasy, and Dr. Who. I'm also a bibliophile with a massive book collection.
dv: Sounds like fun.  What are some of your future goals?
MS:  To continue learning new skills and techniques within BDSM.  Learning and trying new things keeps the mind fresh. I hate to do things the same way twice, so I like to discover new ways to do the same thing.  My podcast is going to be a focus in 2019 as I attempt to do one episode a month. I also want to return to writing, which is a passion of mine. And I hope to find a good photographer I can work with regularly who will capture my essence.
dv: Those are all great goals and we have no doubt that you'll succeed at each one.  Thank you so much for your time, Simone.  All of us at dickie virgin wish you continued success!